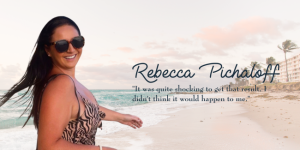 One simple skin check saved Bec's life
Bec is 32, and until a few months ago had never had a skin check, that is until she attended a Hunter Melanoma Foundation (HMF) fundraising event.
After watching a HMF education story of a 21-year-old female diagnosed with melanoma, Bec was promoted to consider having a skin check herself. 
This skin check saved her life. Here is Bec's story. 
DONATE NOW
Subscribe to our mailing list to keep up to date with melanoma news, upcoming fundraising events and much more.
JavaScript not installed
This website uses JavaScript to improve the user experience. The web browser you are use does not have JavaScript installed or is outdated. For the best browsing experience please open the website in a modern web browser with JavaScript installed, such as Google Chrome, Mozilla FireFox or Safari.